Science and Bible: Looking Forward 
Are there data to support the real location for the Ark of the Covenant, Noah's Ark, the site where the Israelites crossed the sea?  Perhaps more convincing than UFOs or bumps that we hear in the night, archeological evidence for places and events recorded in the Bible can and have come to light.  In fact, many archaeological digs within the borders of Israel have aligned very nicely with clearly stated Scripture.
 Consider This!
Recently, we were sent an e-mail with an attached Power Point presentation.  The file for this PPS file can be downloaded here and you can view this without the software used to make the presentation.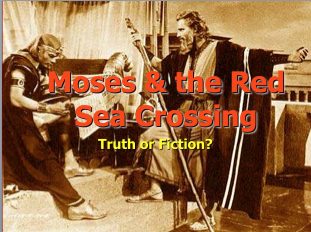 We offer this more for fun than as proof.  Even the title of the presentation asks if we are witnessing fact or fiction.  Being objective is fair-minded.  Making a conclusion on limited information really requires more information.  From the WindowView perspective, more solid evidence and scientific confirmation would substantiate the information as presented.  Still, events are described and places where these events or objects are placed do exist.  So there is a story here to hold our interest.
 Multiple Perspectives – Make Your Own Conclusions
Still, part of what we share here involves the work of Ron Wyatt, now deceased.  Information is posted on a web site that directly supports his claims and listings along with speculations are given on a well-known wiki.    The Wyatt Museum  site even has withdrawn certain claims because those who now run the web site appear to be making an effort to post only what they can say is reliable.  That wins us over a bit, but still opens the questions to what is reliable evidence.  And that point you will see made at Wikipedia.  We welcome you to do some exploring on your own.  Our disclaimer is to be aware that this may be more for fun than data that is backed up with clarifications and further data.  Still, like noted above, the events and places cited have backing from writings that have many times been shown reliable.
 Is There Life Elsewhere in the Universe?
And then we are reminded that Scripture states that in time, like now perhaps, humanity will be approached by incredible findings.  The prospect that a current NASA probe to Mars may confirm former life activity on the now barren red planet could be likewise impressive.  At the Window we think it possible to be in possession of data that back up both the biblical accounts as well as data for ancient extinct life on Mars.  How so?  Other writings support the notion that microbial life on Mars could have easily originated from age-old Earth ejected materials landing on Mars.  Water on Mars is no longer of great quantity due to the loss of Mars ability to hold onto surface waters.  And NASA is driven by their compulsion to explore.  Images of the Mars' surface strongly suggest water.  But if we find evidence for organic life once on that planet, it may be years before we understand the true origin of that life.  And we think the confusion will drive many a person to believe we are mere material beings with no spiritual hope of a greater truth.  And that point is critical to understanding who we really are, in reality.
Isn't The Real Point Already Self Evident!
The point we are going to leave you with here is simple.  There is so much to the biblical account that is self-evident that further data in support of the explorations of a Ron Wyatt are really not so necessary.  In fact, the issue of sin is so self apparent and the Bible's treatment of the subject so clear, we are well advised to contemplate the truths inherent in Scripture.  If you need a reminder as to the problem of sin, look at the evening news!  Look at the news from around the world!  So the information in the Power Point presentation is indeed interesting, certainly worth a deeper look, but not required to know that a faith in the God of Israel is warranted.  And that is where the future events lead all of humanity to a cross roads of decision.  An eternal destiny is in the balance … yours!
The photos and many points presented in the linked presentation are worth your attention.  If at the very least it opens the window a bit more and gets you to think about who you are and why we are alive … and what Eternity holds for us all … then that's the main point … take a look and enjoy.
Director, WindowView.org
Note: This entry is co-posted on the companion WindowView Press (Science) blog