Previously we cited a series of serious earthquakes (see blog post: Science Data, Current Events, and Nature as Biblical Indicators, March 11, 2011) that prominently made a resonating note with the following scriptural statement declaed in the Bible:
"For nation will rise against nation, and kingdom against kingdom. And there will be earthquakes in various places, and there will be famines and troubles. These are the beginnings of sorrows. "(Mark 13:8 NKJV)
What the Messianic Writings are referring to involve events leading up to Messiah's return to Israel.
The illustration below reveals how active the planet is in recent time. You can visit the original article with the graphic shown below. ( http://www.livescience.com/21284-world-earthquakes-map.html )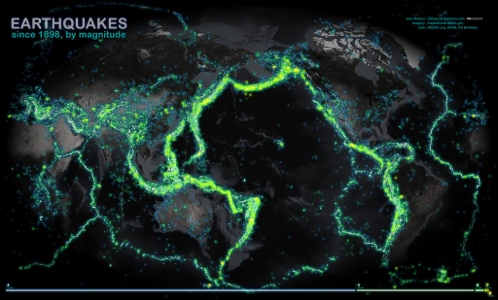 To be clear, earthquakes alone don't make the linkage complete, but then ARE you looking at how this relates to ALL the other signs we can see in the daily news. The most remarkable point to add here is how nations are building a swell of momentum in opposition to the mere existence of Israel. There is war elsewhere, too. There are serious troubles, globally, in the areas of economics, environment, and human relations. And famine is local to where ever you live, someone nearby, in even the most affluent areas … is hungry. All of this contributes HUGE pieces of significant evidence to complete the picture. Are you seeing what the Window reveals?
The reason for WindowView is to get you to LOOK at the science and scriptural evidence that are right in front of you. And if you don't know what the Bible says … then read it for yourself! Most people let others tell them what to think without thinking for themselves. What kind of person are you? What does the evidence tell you?
Director, WindowView.org